Aliens gone Crazy
A downloadable game for Windows and Android

Juego creado desde cero para la Guinxu Jam 2019 por Pio y Santi.
Important Message
Currently the game is in alpha phase, there are many unfinished things such as cutscenes, music, sounds, as well as bugs that can occur during the game.
This is only a demonstration of the work we have done to date, therefore we will continue with the development by publishing content often on our social networks.
Actualmente el juego se encuentra en fase alpha, hay muchas cosas sin acabar como cinemáticas, música, sonidos, además de que pueden producirse bugs durante la partida.

Esto es solo una demostración del trabajo que tenemos hecho hasta la fecha, por lo tanto continuaremos con el desarrollo publicando contenido a menudo en nuestras redes sociales.


Controls:
Movimiento:
Arrows to move and jump / Flechas para moverse y saltar
Shift to run / Shift para correr
Space bar to jump / Barra de espacio para saltar
Power Ups:

Double tap on top arrow to double jump / Doble tap en la flecha hacía arriba para doble salto
Control to shoot / Control para disparar
Shift to dash / Shift para activar la sierra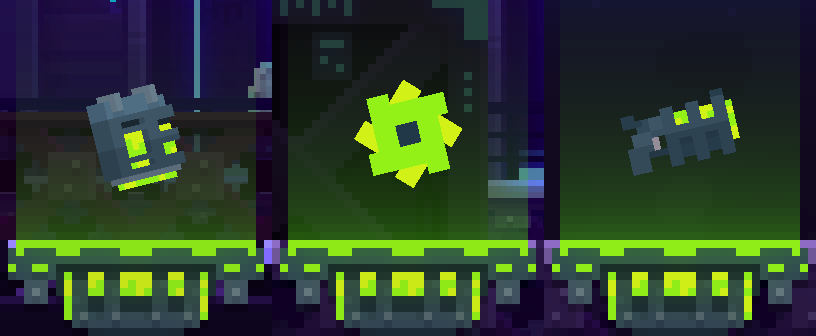 Description
Aliens gone Crazy is a skill game that deals with bravery and will as a mechanism to advance through all the corners of this mysterious place. The player controls a simple astronaut who has been sent into space to fix the satellite that broadcasts the famous television show "Trapped at home". After the premiere of its ninth season, the program stopped streaming due to malfunctions in the main satellite. During the repair mission, the astronaut mysteriously lost consciousness and woke up in a prison together with more humans ... Our mechanic must make his way and overcome all obstacles, with a single purpose, to free all the people trapped in that damn place.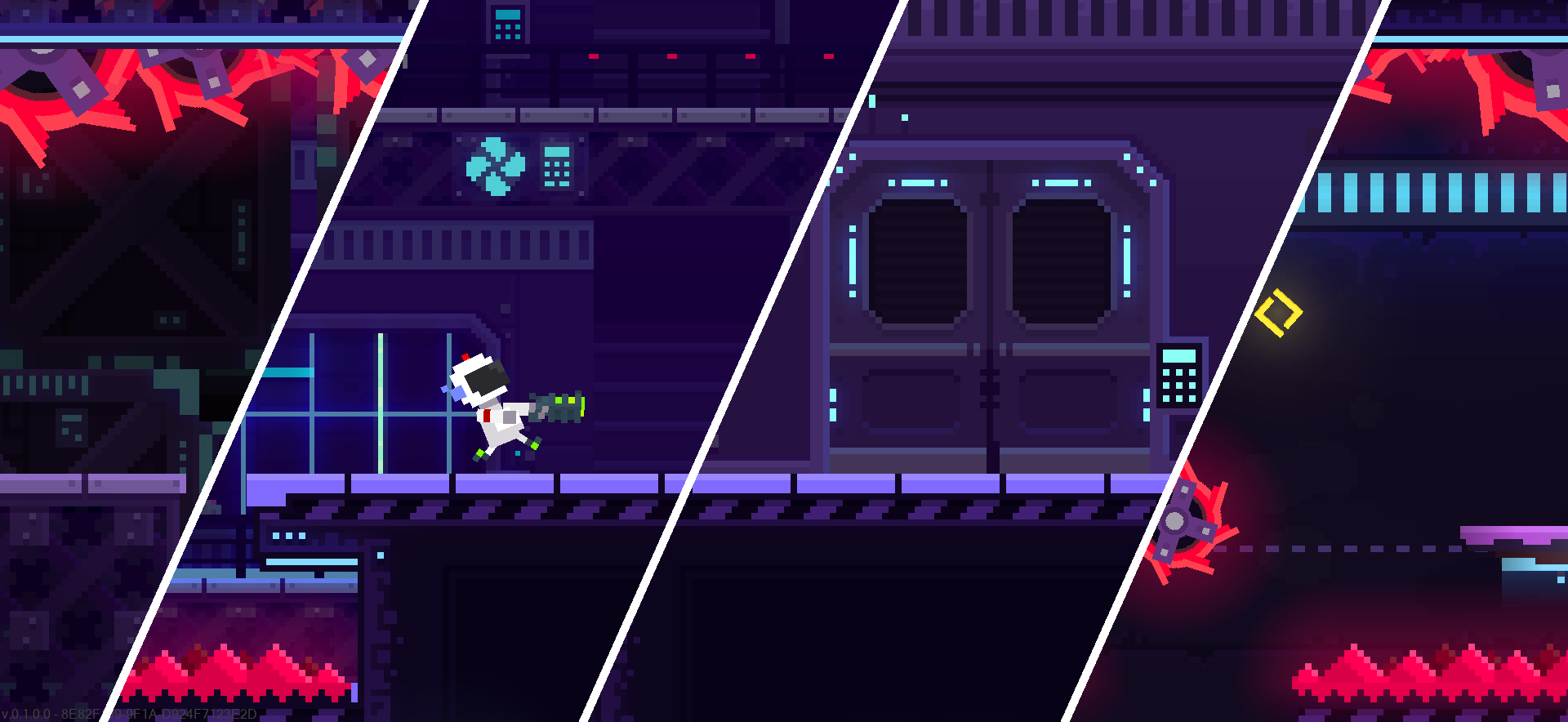 Aliens gone Crazy es un juego de habilidad que trata la valentía y la voluntad como mecanismo para avanzar a través de todos los rincones de este misterioso lugar. El jugador controla a un simple astronauta que ha sido enviado al espacio a arreglar el satélite que emite el famoso programa de televisión "Atrapados en casa". Tras el estreno de su novena temporada, el programa dejó de emitirse por averías en el satélite principal. Durante la misión de reparación, el astronauta perdió misteriosamente el conocimiento y se despertó en una prisión junto con más humanos... Nuestro mecánico deberá abrirse paso y sobreponerse a todos los obstáculos, con un único fin, liberar a todas las personas atrapadas en ese maldito lugar.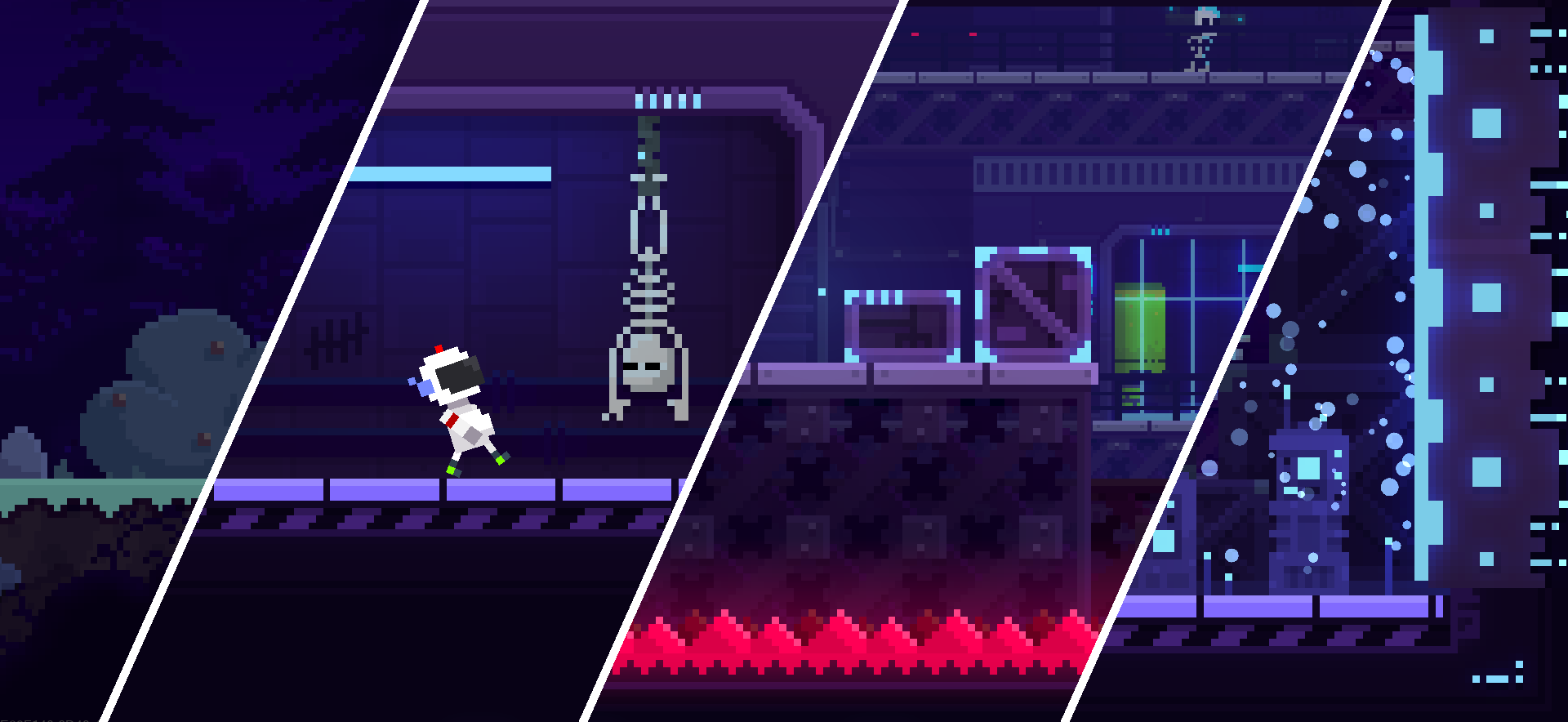 History
English
After the year 2020, humanity led by a group of people with great power, began to make decisions based on concepts that did not come from the real needs of the people, but from those power groups themselves. The chaos of ideas gave greater value to incompetence, people preferred that the government took charge of the course of their lives in exchange for being able to stay at home watching TV, eating junk food and consuming substances so as not to take responsibility for their actions. Humanity legalized practices that went against the continuity of the species, but the beginning of the end came when the self-consumption of humans was accepted. The people who did not vote in favor were the first to be consumed.
Gary, our protagonist, wanted to go to space since childhood, he worked very hard to become a space explorer, but due to life circumstances he had to give up his dreams of exploring the cosmos, in exchange for becoming a space mechanic, work with which he could at least go into space, if only to fix junk. Gary waited and waited for his opportunity ... After a long time of preparation the phone finally rang, his first mission had begun.
"Trapped at Home" was the most watched show on Earth, a reality show televised on the largest television network. In this program, a group of strangers live in the same house, competing to see who becomes the audience's favorite. After the premiere of the ninth season, the program stopped streaming due to a failure in the company's main satellite. The enraged crowd demonstrated at the doors of the television network to demand the return of the famous program under the premise that, without it, "their lives were meaningless." Faced with social pressure, the managers decided to hire a special repair company to solve the problem.
Our space mechanic was not a fan of fashions, much less those kinds of shows, but work is work and he would finally see his childhood dream come true. In April 2021, Gary boarded his ship and headed for the large satellite "Sputnik TV", started engines and quickly managed to get out of Earth's atmosphere. Gary was 10 minutes from his goal, but suddenly he lost consciousness ...
Castellano
Después del año 2020, la humanidad liderada por un grupo de personas con mucho poder, empezaron a tomar decisiones a raíz de conceptos que no provenían de las necesidades reales del pueblo, sino de esos propios grupos de poder. El caos de las ideas dio mayor valor a la incompetencia, la gente prefirió que el gobierno se encargase del rumbo de sus vidas a cambio de poder quedarse en casa viendo la TV, comiendo comida basura y consumiendo sustancias para no hacerse responsable de sus actos. La humanidad legalizó prácticas que iban en contra de la continuidad de la especie, pero el principio del fin llegó cuando se aceptó el autoconsumo de humanos. Las personas que no votaron a favor fueron los primeros en ser consumidos.

Gary (por poner algún nombre), nuestro protagonista, quiso ir al espacio desde la infancia, trabajó muy duro para convertirse en un explorador espacial, pero por circunstancias de la vida tuvo que renunciar a sus sueños de exploración del cosmos, a cambio de convertirse en un mecánico espacial, trabajo con el cual al menos podría ir al espacio, aunque solo sea para arreglar chatarra. Gary esperó y esperó su oportunidad... Después de mucho tiempo de preparación por fin sonó el teléfono, su primera misión había comenzado.
"Atrapados en casa" era el programa más visto de la Tierra, un reality show televisado por la mayor cadena de televisión. En este programa un grupo de personas desconocidas conviven en una misma casa, compitiendo por ver quién se convierte en el favorito de la audiencia. Tras el estreno de la novena temporada, el programa dejó de emitirse por una avería en el principal satélite de la empresa. La muchedumbre enfurecida se manifestó a las puertas de la cadena de televisión para reclamar la vuelta del famoso programa bajo la premisa de que, sin este, "sus vidas carecían de sentido". Ante la presión social, los directivos decidieron contratar a una empresa de reparaciones especiales para solucionar el problema.
Nuestro mecánico espacial no era muy fanático de las modas, ni mucho menos de ese tipo de programas, pero el trabajo es el trabajo y por fin vería realizado su sueño de la infancia. En abril del 2021, Gary subió a su nave y puso rumbo al gran satélite "Sputnik TV", prendió motores y rápidamente consiguió salir de la atmósfera terrestre. Gary estaba a 10 minutos de su objetivo, pero de repente perdió el conocimiento...

Download
Click download now to get access to the following files:
ALIENS gone CRAZY v0.1.0.zip
19 MB
ALIENS gone CRAZY v0.1.0.apk
29 MB
Comments
Log in with itch.io to leave a comment.
Ya salió? O como lo descargó o qué pasó con el juego?, me interesa
En los próximos días colgamos una nueva demo <333

Aquí te dejo mi canal que he empezado a hacer streamings para enseñar el progreso!
https://www.twitch.tv/pias0

Sino en menos de una semana pásate que estará actualizadas las imágenes y la demo.
Hola soy Guinxu, me gustaría contactar por privado para pediros una cosa, si fuera posible. Muchas gracias.
Muchas gracias por probarlo!!

Hacer el juego en tan poco tiempo ha sido complicado y estresante, pero nos ha gustado tanto el prototipo que probablemente le demos caña y lo saquemos al mercado pronto!^^